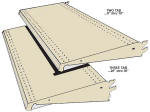 Available in 3' and 4' widths, 8" to 30" depths, two and 3 position in either a flat position, 15 degree or 30 degree down slope.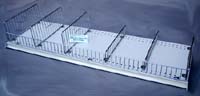 The solution for maintaining separation of school, office and art supplies. Dividers are 3 3/4" wide x 7 3/4" high x 6 3/4" deep. The dividers clip into front shelf perforations. Minimum product width is 6". End dividers are sold separately and in pairs.

Heavy gauge steel wire construction, powder coated for long life and extra wear constructed for Potato Chips in a Grocery Store, Candy, Bed Linen, and more.