The End Cap is best configured from a single sided Madix Maxi Line shelving unit with a double back. This configuration utilizes the strength of the Base Shoes being connected directly to the Upright thus giving it the strength of a typical Gondola Section of shelving we have all come to know.
We have Gondola End Frames available special order if this is your requirement. The end frame is mounted directly to the end of a double sided section of shelving and are useful when enough space is not available for a traditional Gondola End Cap.
Gondola End Display Merchandisers are a great way to create more exposure for products or merchandise that can be possibly slow moving or on sale.
What is the difference between Gondola Store Shelving and Wall? The Gondola shelving is also called Gondola Island Shelving. Using the term island the Gondola Shelving stands in the center of the floor on as a island type product display. The wall shelving is store shelving that is installed against a wall.
The least expensive way to add an end cap to an existing Gondola island is to add a wall section either 36 inches wide or 48 inches wide to meet the specific needs or the particular store
To make sure you receive the correct Gondola Shelving End Cap Merchandiser, you must measure your existing Gondola Island Shelving height and deck width. Below are measurements that need to be correct.
---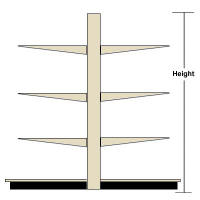 36 Inches - 42 Inches - 48 Inches
54 Inches - 60 Inches - 66 Inches
70 Inches - 72 Inches - 78 Inches
84 Inches - 90 Inches - 96 Inches
---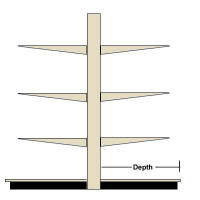 12 Inches - 14 Inches - 16 Inches
18 Inches - 20 Inches - 22 Inches
24 Inches - 30 Inches
We have found the most affordable way to create a gondola end display is to use a wall section with double backs on on the front of the gondola end and one hardboard back on the rear of the section.