Typically configured to be placed up against an existing wall. The wall gondola being single sided utilizes the existing wall to support the side of the gondola that does not have any base shoes connected to it.
Gondola Wall Shelving is available in 3' and 4' long sections with a 24" and 30" long section available by special order. All of the sections can be connected together to configure most any length of aisle. We have base depths available from 12" to 30" with upper shelves available from an 8" deep upper shelf to a 30" deep upper shelf and every depth in between at 2" increments. Wall gondolas are available in heights from 3' high on up to 96" and beyond with the use of what is known as extension uprights.
Wall and double sided shelving also known as Gondola Shelving is basically assembled with all the same interchangeable pieces. If you would like to create a single sided aisle of shelving from a double sided aisle of shelving, all you would have to do is remove all the base shelves, base shoes, upper shelves, and wa la you would have a single sided. An end cap is assembled using all the same gondola pieces also.
Request a Quote - Fast easy accurate quotes delivered to your email.
---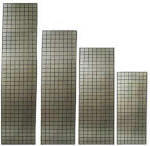 Constructed of a durable all steel 8mm wire with a durable powder coated finish
Available in 2' widths and heights between 4' high and 8' high