Gondola Shelving is the most popular store fixture to display or merchandise products of all kinds, shapes, and sizes for most any type of store from retail, grocery, hardware, and even janitorial supply for large containers of chemicals.
Gondolas are mostly available in two configurations one is a single sided that is used up against a wall gondola and an island gondola used in the middle of the sales floor for any store. Gondolas are available 3 and 4 foot widths with a 24" wide available by special order, heights from 36 to 96 inches and many colors to choose.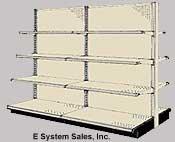 Many add-on's are available for Gondolas like standard upper shelves, wire shelves that are popular for bags of chips, fencing and dividers, we have what is known a Hypermaxi Racking that configures the shelves to be useable as its main purpose but provides heavy duty storage space on the top of the shelving system, also have available inside and outside corner sections.
Many accessories are available like casters for island gondolas, hang rod assemblies for clothing, inside and out side corners, fencing, and more