ESSI is providing not only the city of Chicago with Gondola Shelving, we also provide the entire state of Illinois with Shelving and Store Fixtures via our Elgin Madix stocked warehouse.
We have Gondolas in-stock in a 3' and 4' wide and a 2' wide sections by special order, they can be connected together to create most any length aisle needed. Gondolas are available in heights of 36" and up to most any height with upright extensions.
Upper shelves are sold separately and are also available in 3' wide, 4' wide, and 2' wide by special order with depths ranging from as small as 8" deep to as deep as 30" deep. Many styles of upper shelves like wire shelves are used because they do not collect dust and are easy to maintain.
---
Gondola Wall Shelving - Double Sided Gondola

Gondolas available in a 24", 3', and 4' configuration with heights from 3' up heights as high as needed.

Double Sided and Single Sided Gondolas are configured using the same components making them more versatile and cost effective.
---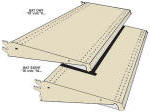 Gondola Upper Shelves sold separately available in a 10" to 30" Depth and widths of 24", 30", 36", and 48", and are available in all the standard and optional colors.
---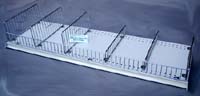 The solution for maintaining separation of products, merchandise, and supplies. Dividers are 3 3/4" wide x 7 3/4" high x 6 3/4" deep. The dividers clip into front shelf perforations. Minimum product width is 6". End dividers are sold separately and in pairs.
---

Wire Shelves available in many styles and colors in 24", 30", 36", and 48" widths, with depths from 8" to 24" deep.
---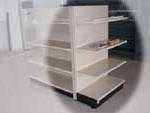 The best way to configure an End Cap is with a double back single sided gondola shelving unit that would sit flush up against the Gondola Shelving Unit creating an even stronger more sturdy and affordable.
---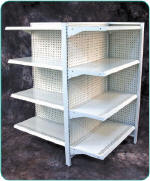 This versatile fixture gives maximum exposure to impulse items. Panel frames are slotted to accept all Madix Standard Shelves or accessories. The Laminated or Carpeted Deck is 5" high, plus the deck has 'T' mold edge to match kickplate.
---
We have three types of uprights available: the basic upright, the half upright, and extension uprights that will accommodate most of the standard 1" bracket type upper shelves.
---

Many standard and optional colors to choose from: Sahara, Chocolate, Gray, White, Black, and more.